Beards In Pop – 1 to 101 – The Complete List
by Chris Goddard on Thursday, 21 April 2011 at 16:57
I embarked upon 'Beards In Pop' as I'd just grown a beard. And putting the links into this note I realised that it was all worthwhile. Rediscovered some old faves (The Night They Drove Old Dixie Down), discovered some new faves (that Nilsson track) and hope that I have jogged some memories. Beards in Pop originally started as a little hobby and I did not imagine that I would be able to extend it beyond 20 or so. I could probably have done 50 more but it had to end somewhere so I have. It may have been a bit 70's centric for some tastes but who cares. The '70s was the best decade for music. Now all I want is to release a CD and produce some t-shirts as promotional material. This also served as the inspiration for my 50th Birthday Party.
1. Stealers Wheel – Gerry Rafferty & Joe Egan – 'Star'
A sad start. Stealers Wheel were Gerry Rafferty (RIP 04/01/10) and Joe Egan. Both have beards and hailed from Paisley. The band was considered to be the British version of American folk/rock supergroup Crosby, Stills, Nash & Young. The more popular song was, of course, Stuck In The Middle With You.. but you have probably seen that quite a few times over the last 24 hours.
2. Michael McDonald – 'I Keep Forgettin'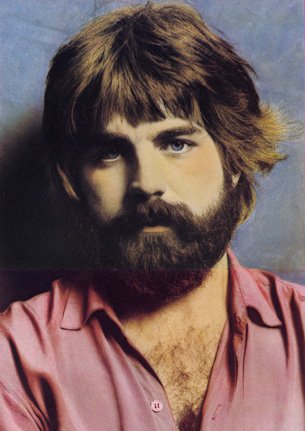 What a voice and what a BEARD. Michael McDonald was a singer in the Doobie Brothers and went on to forge a solo career (which has become less interesting the older he gets – ergo he rerecorded this recently with Julia Fordham). 'If That's What It Takes' from which this was taken is in my Top Twenty LP's of All Time. So there. Sampled (I prefer to call it a duet) by Warren G for the fantastic Regulate single.
3. Bee Gees – Barry & Maurice Gibb – 'Jive Talkin'


Released in the Summer of '75, I first heard this on Paul Gambaccini's US Chart programme when it was Number One in the States. It Blew. My .Mind. It was their first hit for three years, and in the States, their first since How Can You Mend A Broken Heart.7 From the LP Main Chance which also includes Fanny (Be Tender) AND Nights on Broadway… this was a kind of rehearsal for Saturday Night Fever. They were 'quite good' at writing song too.
Maurice died in January 2003. The Bee-Gees: The Movie is currently being discussed with Stephen Spielberg at the helm.

4. Average White Band – Robbie McIntosh, Roger Ball, Malcolm 'Molly' Duncan, Alan Gorrie – 'Pick Up The Pieces'
The Average White Band came from Scotland forming in the early '70s. Robbie McIntosh the (bearded) drummer died following a party in Los Angeles. He and his bandmate took an overdose of heroin – they thought it was cocaine. Alan Gorrie's life was saved by Cher. Good on her. Enormously funky and groovy- there are at least 4 beards at work here.
5. Ace – Paul Carrack & Terry Comer – 'How Long'


Paul Carrack composed this lovely hit record on discovering that the bassist, Terry Comer had been secretly working with other bands. And you thought it was about infidelity didn't you. Carrack went on to be the singer in Squeeze, Mike and the Mechanics and a soloist. Ace split up shortly afterwards.


6. Kings Of Leon – Nathan & Caleb Followhill – 'Molly's Chambers'

The title Molly's Chambers came from Whiskey In The Jar by Thin Lizzy. Here, Nathan Followhill (drummer – beard) and Caleb Followhill (guitar, vocals – beard), chug away very nicely thank you. Swampy….and a bit sweaty.

7. Peter Tosh – '(Walk) & Don't Look Back'

Originally recorded by the Temptations, Peter's version appeared on his LP Bush Doctor. A British record retailer (Smiths? Woolies?) banned the album upon its release because of a scratch-n-sniff sticker on its cover, that apparently smelled of marijuana. As you can see, he is joined in Jamaica, on vocals by Mick Jagger who makes a rather lame attempt at 'toasting'.
8. Marvin Gaye – 'Sexual Healing'
Suave. People magazine described it as "America's hottest pop-culture turn-on since Olivia Newton-John suggested she wanted to get Physical." Kate Bush has covered this. Possibly the only Top Ten Hit to rhyme 'oven' (or ovin) with loving. Gordon Banks on vocals (not THE Gordon Banks sadly). Now, get your string vest off and come here.
9. Bruce Springsteen – 'Spirit In The Night'
Filmed in 1973 when he was just 24, the E-Street Band were hot, and Bruce had his beard. The beard lasted until Born to Run (then reappeared for The Ghost of Tom Joad). Historic…
10. Vangelis – 'Chariots of Fire'
Or Evangelos Odysseas Papathanassiou to be precise. Watch as he smokes a fag, whilst 'composing' this piece. Very hairy.

11. City Boy – ' 5-7-0-5'
Like a cross between Queen, ELO and 10.CC, 'moderately successful' City Boy came from Birmingham and 5.7.0.5 was their only hit. Beardy Lol Mason had another minor hit as one of the Maisonettes with Heartache Avenue in the '80s. Were telephone numbers really that small in the '70s?!!


12. Electric Light Orchestra – 'Livin' Thing'
Specifically Jeff Lynne, Violinski and Wilfred Gibbons. I always imagine that I am in a synchronised swimming competition when I listen to this – can you imagine? Not the last appearance of Jeff Lynne in BIP (and no NOT the Travelling Wilburys. One of my favourite records of all time.

13. Kanye West – 'The Power'
Taken from 'My Beautiful Dark Twisted Fantasy', this charted last year. Kanye has tweeted, in CAPITAL LETTERS – "IT'S NOT A VIDEO, ITS A MOVING PAINTING" – yes Kanye we hear you. But WHAT a video. Have searched high and low for the full-length version – okay if we all lived in Japan – but probably the ONLY track in the entire history of pop to sample King Crimson. But what a record.
14. Eurythmics – David A. Stewart – Who's That Girl'

Chosen because of the veritable bevvy of the '70s, 80's Popstrels/Actresses. And because Annie also has a beard (albeit one was drawn on with a marker pen) – see Kiki Dee, Bananarama, Jay Aston AND Cheryl Baker, 'er out of Haysi Fantaysi and Marilyn and more… AND the first appearance of Mad Annie.

15. Thin Lizzy – Eric Bell –'Whiskey In The Jar'
Eric was a short-lived guitarist with Thin Lizzy. He left the band after a New Year's Eve concert in 1973, after throwing his guitar into the air in the middle of the concert, pushing the amplifiers into the audience and storming off stage. Chosen not just for the beard but because Phil Lynott was one cool M.Fer and because there is a fabulous Lizzy documentary often on BBC4.

16. Curtis Mayfield – 'Get Down'
I just LOVE these Soul Train Line Dancers…
17. Kris Kristofferson – 'Help Me Make It Through The Night'
Nothing if not intimate, Kristofferson said that he got the inspiration for the song from a magazine interview with Sinatra. Frank said he believed in "Booze, broads, or a bible…whatever helps me make it through the night." He is also a bit of a serial dater, Rita, Barbra. Joan Baez and Janis Joplin.
18. Toto – David Paich – 'Hold The Line'
Toto was a band of session musicians who had worked for Boz Scaggs, Sonny and Cher and Steely Dan. Every band has at least one good song in them and this is theirs. The fact that they looked like a bunch of boozy accountants probably prevented greater riches.
19. The Mamas and the Papas – Denny Doherty and John Phillips – 'California Dreamin'
Here I go again, dreaming of California on a Winter's day. Astonishing record by a pretty astonishing pop group. Michelle is the only one still alive but what a marvellous legacy has been left behind? Huge smile on my face…
20. Chas & Dave – 'Ain't No Pleasing You'.
Rockney not cockney, Chas (Hodges backed Jerry Lee Lewis, worked with Joe Meek, THFC supporter) and Dave (Peacock ex of Cliff Bennett and the Rebel Rousers) were responsible for some dreadful records (um Snooker Loopy anyone). But not this. This is utterly charming. And they opened for Led Zep, so there.
21. Bob Seger – 'Mainstreet'

Bob is from Detroit and his popularity peaked (in the UK at least) somewhere around We've Got Tonight – much better as a solo track than a duet. And Night Moves (the LP) is one corker of a record. Obviously, no promo video but this does the trick 'quite' nicely. And I am still on the lookout for that elusive Clubnight of 70's Eastcoast/Westcoast American AOR…

22. New Order – Peter Hook & Arthur Baker – 'Confusion'

Hammers you into the ground by my favourite band of the 80's and one helluva record and is better than Blue Monday. Exactly what happens when Manchester goes to New York. Mr Baker is included as it is as much his record as theirs……Confusion – for heavy rotation…..
23. Barry Biggs – 'Sideshow'
'Sideshow' was the biggest hit of Barry's UK Career. Originally recorded by Blue Magic (see below), his first hit in Jamaica was a cover version of 'One Bad Apple' by the Osmonds. Peculiar choice but that voice pulls it off. Great suit too…

24. Roger Whittaker – 'The Last Farewell'
Released and recorded in '71 but not a hit until '75, this was a huge hit in America (Number 1 on the Adult Contemporary Chart) before the UK. Roger was an ex-teacher (Geography?, Physics?) and now has NINE grandchildren from FIVE children – so nothing if not fertile. Lovely song and nice French horn….
25. Elbow – Guy Garvey – 'Grounds For Divorce'
Buying your wife 3 Lp's by Roger Whittaker were grounds for divorce in the '70s. Crunchy sound, brilliant lyrics (they'll be twisted karaoke at the Aniseed Lounge)…

26. America – Dan Peek & Dewey Bunnell – 'A Horse With No Name'

Lot's of America's LP's from the '70s began with the letter 'H' – Homecoming, Hat Trick, Holiday, Hearts, Hideaway and History: America's Greatest Hits. Fact. Lovely harmonies and despite several attempts at analysis, I am still not sure what it is about…

27. The Band – Levon Helm & Garth Hudson – 'The Night They Drove Old Dixie Down'

Tonight Ladies and Gentlemen, Levon Helm IS Virgil Caine. A veritable history lesson in the American Civil War. The Last Waltz was filmed as a massive Thanksgiving Day concert on November 25, 1976, at the Winterland Ballroom in San Francisco, California. Covered by Joan Baez and er Big Country. Now, who wants that waltz that I promised?…

28. The Temptations – Eddie Kendricks & Dennis Edwards – 'Ball Of Confusion'
Taken from their 2nd Golden (more Psychedelic) era. Produced by Norman Whitfield who was a GENIUS. Oh if only boybands from today were as good as this. Finally overtaken the Four Tops as my favourite Motown group…. Wow…Ball of Confusion, that's what the world is today, a-hey-hey.

29. The Beach Boys – Carl Wilson, Al Jardine and Mike Love – 'Darlin'
(well some of them). Dennis & Brian had left by the time this clip was filmed (so don't count for this list) but here is Carl Wilson, Al Jardine and Mike Love bearded up. From the 1967 LP Wild Honey, this is a rewrite of 'Thinkin' 'Bout You Baby'.

30. Hot Chocolate – Tony Wilson & Harvey Hinlsey – 'Emma'
Tony on the drums and Harvey on guitar from Hot Chocolate. What an incredible record.
Mickie Most thought it too slow and morbid to be released but the girls in his offices at RAK Records changed his mind. And it was one of the biggest hits of their career…
31. John Martyn – 'Couldn't Love You More'
Beautiful song, beautiful voice, lame attempt at comedy in the intro.
He was an extraordinary talent…

32. Fleetwood Mac – Lindsey Buckingham, Mick Fleetwood and John McVie – 'Go Your Own Way'

Out of all these beards in pop, this record means the most. I have lived with it for 34 years now and even though I don't play it daily I do play it regularly. Fleetwood Mac holds a huge place in my heart, I have literally knocked myself out (by falling off a spinning podium) dancing to this, have sung myself hoarse whilst singing to this.
33. Harry Nilsson – 'All I Think About Is You'

Look his eyes are in the wrong place – I know how he feels..
Beautiful song, arranged by Angels. This has sorted out my hangover.. x
34. Roxy Music – Phil Manzanera – 'Love Is The Drug'
Philip Geoffrey Targett-Adams was born in 1951 of Columbian/English parentage in London. The sample at the start of the single is taken from the opening scene of "Duel" with Dennis Weaver. BTW What has happened to Bryan's eye?

35 – George Clinton – 'Atomic Dog'
Back in the day (1983 I think) I went on a coach trip from Peterborough to Nottingham Rock City for a night out (I know! Why?). Anyway, the DJ was great. He played the usual for that time (Japan, Killing Joke etc) and played this followed by Gary Numan. Rascal's favourite record…
36. The Beatles – Paul McCartney – 'Get Back'
What a fantastic way to spend your lunch-hour!!!
Get back Loretta!…

37. The Gap Band – Charlie, Ronnie and Robert Wilson – 'Oops Upside Your Head'
In the UK, this song is typically "danced" to by sitting on the floor in rows and performing a rhythmic "rowing" action. Us Brits = Mad…..

38. Ray LaMontagne – 'Trouble'
The early beard catches the worm – long, lovely night. Now, where is my bed…?

39. Dr Hook – Dennis Locorriere – 'A Little Bit More'
The influence on Brokeback Mountain? My first boss was obsessed with this LP and played it every day – so for me, this is a much 1976 as cooler records. But what's NOT to love?
Happy St Valentines Day then.. xx

40. Lindisfarne – Simon Cowe – 'Meet Me On The Corner'
Taken from The Old Grey Whistle Test, possibly the only time a band has mimed. Lindisdfarne came from Newcastle and assisted in the only hit single of Gazza's life. However, this is rather lovely. And Simon Cowe's beard (and hair), when it finally arrives is a force of nature.

41. Eric Clapton – 'I Shot The Sherriff'
The the only reason for watching this is for the GODDESS that is Yvonne Elliman, star of Jesus Christ Superstar, singer of If I Can't Have You (the BEST track from Saturday Night Fever) and the glorious Love Me. And the backing vocalist here. It was at this precise moment (well probably Slowhand) that Eric went off my radar.

42, Johnny Bristol – 'Hang On In There Baby'
This makes me go weak at the knees. It might be the double tracking vocals, those funky guitars, the lush arrangement or just his voice. The writer of Love Me For A Reason, Johnny was a key producer at Motown before finally spreading his wings and trying to become a solo star. Cover versions have been attempted by Curiosity Killed The Cat and Gary Barlow – but neither has come close.

43. The Who – Pete Townsend & John Entwhistle – 'Join Together
Taken from the aborted Lifehouse project, this reached Number 9 in 1972. You hardly ever hear it nowadays – it's all the 60's 'Oo or stuff from Quadrophenia. But WHAT a record. The Who at their best – all it really needs is a Gospel Choir and we're fixed. What would Roger look like with a beard? ELECTRIC.

44. Rolf Harris – 'Sun Arise'
Tough one this but here is Sun Arise the fourth single that Rolf released. Unlike many of his early chart hits Sun Arise ISN'T a comedy record even with a didgeridoo! Rolf (who is, in fact, Kate Bush's father) will be 81 next month.

45. Tom Waits – 'In The Neighbourhood'
Exactly how I like my Tom Waits. He can occasionally be a bit much – but this is one great song, a brilliant grainy video (don't remember it being this grainy but hey-ho) and you can almost understand the words.
BTW LOVING Treme.. this has the same kind of feel… Swampy.
46. Scissor Sisters – Babydaddy – 'Laura'
The band logo was designed by Babydaddy (or Scott Hoffman as he was born) – this came out in the Autumn of 2003. The band became really successful following their cover version of Comfortably Numb in 2004. Indisputably beardy…

47. Pink Floyd – Rick Wright, Nick Mason & Dave Gilmour – 'Money'
Coins clinking, a cash register ringing, etc. It must be Money then. A nice little film of what it was really like in 70's Britain. Reached Number 13 on the Billboard Top 100 but was not released as a single in this country. And as they said 'Money, it's a gas' – now that's a word you don't hear very often nowadays….
48. Robert Wyatt – 'Shipbuilding'
1982, the country was at war, Thatcher was taking a sledgehammer to the unions, we all thought we were going to get blown up in a nuclear attack, people were on strike, Coronation Street was rubbish, Cheryl Cole had not even been born, Channel 4 was not yet available, and Elvis Costello wrote this. Tragic, moving and angry. 'Diving for dear life, when we should be diving for pearls'
49. Traffic – Jim Capaldi – 'Paper Sun'
May 1967 and Paper Sun was a 'bit' ahead of its time, wasn't it? Warning this video contains lots of wandering about in a mod fashion looking at stuffed animals and paper mache topless dolls. Poor Jim Capaldi was Christened Nicola. Nicola Capaldi!! He was the drummer with Traffic and had one hit in the '70s with Love Hurts. The vocals are, of course, by Steve Winwood who seems to be enjoying himself a little too much.

50. Abba – Benny Andersson – 'Angel Eyes'
Benny from Abba. The older I get, the more I love Abba. But this is a seriously creepy record, just listen to the first verse – is he stalking that poor young girl? Is he grooming her? Or hypnotising her? Or him? Or me? Benny always reminds me of a rather stern music teacher.
51. The 5th Dimension – Ronald Townson – 'Aquarius/Let The Sunshine In'
The single held the number one position on the U.S. Billboard Hot 100 becoming the first medley to ever achieve this feat. He died of renal failure, after a four-year battle with kidney disease in 2001. And it comes from the Musical 'Hair'!

52 a) Demis Roussos – 'Forever & Ever'
Look it's simple Lawrence. Angela likes Demis Roussos. Tony likes Demis Roussos. I like Demis Roussos. Sue would like to HEAR Demis Rousos. So please, do you think we can have Demis Roussos?

52 b) Aphrodite's Child – Demis Roussos, Vangelis, Loukas Sideras – 'Rain & Tears'


Check out Vangelis on the piano and the beardy drummer.
52 c) Demis Roussos – 'Midnight Is The Time I Need You'
What a find – Demis does Disco.
53. Kansas – Robby Steinhardt & Rich Williams – 'Carry On Wayward Son'

All of Kansas, except for Robby came from Kansas. Robby played the violin and sang whilst Rich had a glass eye and played the guitar. Not a hit over here but I bet some of you have heard it. This is begging to be used in a Retro 'Almost Famous' type film.

54. 10.C.C. – Kevin Godley – 'I'm Mandy Fly Me'
The story goes that I'm Mandy, Fly Me was inspired by a poster from National Airlines in Manchester. Eric Stewart spotted the poster and beneath it was a tramp looking up at the girl. Kevin introduced the idea of the fast guitar break. Taken from How Dare You which was their final LP as a foursome.

55. Andrew Gold – 'Lonely Boy'
Andrew has the distinction of being the first human voice to be 'heard' on the surface of Mars. He was invited to join 10.CC in 1981 but couldn't. instead, he formed Wax with Graham Gouldman in 1985. Great BIG sing-a-long chorus even if the sentiments are a little selfish.
56. Barry White – 'What Am I Gonna Do With You'
What another remarkable piece of footage from Soul Train. Like a cross between Magpie, The Cosby Show and Oprah Winfrey. With Aretha Franklin's bloody son. Incredible. And not a Barry in sight.
57. Status Quo – John Coghlan – 'Paper Plane'
This was a tough one. Francis and Rick never had proper beards. Couldn't tell if Alan Lancaster had one or not but John Coughlin definitely DID (albeit briefly) – and this is (probably) the only video in existence of said beard. Taken from their debut LP on Vertigo (Piledriver. the one with all that hair), this is 'the Quo' at their 70's finest.

58. Little Feat – Lowell George – 'Rock & Roll Doctor'
Lowell died aged 33. Few clips are in existence but this is from the OGWT. What a great band and the BEST set of LP sleeves. (Sailing Shoes probably my favourite)..

59. Richard & Linda Thompson – Richard Thompson – 'A Heart Needs A Home'

Teddy's Dad. Lovely.
60. Hawkwind – Nik Turner – 'Silver Machine'
Hawkwind never really appeared on TV but the success of the single meant an appearance on Top Of The Pops. The group felt ill at ease at the prospect of miming a performance in front of a studio audience so the BBC recording of the band performing live at Dunstable Civic Hall was shown with the single version dubbed over it. 'It's anticeptically clean'…

61. Steve Harley & Cockney Rebel – Duncan MacKay & George Ford –
'Make Me Smile (Come Up and See Me)'
Not quite as smiley though as it is about his former band members who Harley felt had abandoned him. This features THE Tina Charles on backing vocals and THE Marc Bolan on acoustic rhythm guitar. There have been 120+ different cover versions and the song has also survived being used in several ad campaigns.

62. Gil Scott-Heron – 'The Bottle'
The Noughties were not good for Gil. In and out of prison for drug possession, for violating a plea deal on a drug-possession charge by leaving a drug rehabilitation centre, arrested on felony possession of cocaine charges etc. Drugs, drugs and more drugs.
63. Bonzo Dog Doo Dah Band – Neil Innes – '(I'm The) Urban Spaceman'
Great record from 1968. Bonzo's looking a bit cheeky, produced by Apollo C Vermouth, someone who looks like Bowie playing Mona Lisa and instruments that you do not hear anymore outside an Elbow LP.

64. Nirvana – Kris Novoselic – 'Smells Like Teen Spirit'
I can't think of ANYTHING to say about this phenomenal record – apart for the fact that it will be TWENTY years since it was released this year and still reduces me to a quivering, joyful mess. And it does sound a bit like More Than A Feeling by Boston. 'A mulata, an albino, a mosquito, my libido…. Yeah'

65. Three Dog Night – 'Mama Told Me Not To Come'
Written by Randy Newman, this became a hit for Three Dog Night in 1970. I love a group with three main vocalists.. this was also covered by Tom Jones & The Stereophonics. Watch out for the bum note at the end.

66. The Congregation – Brian Keith – 'Softly. Whispering I Love You'
Or the English Congregation if you are in the US. Beautiful, Sunday evening, crumpet kind of a song. Written by the Roger's Cook and Greenaway.
Now give us a cuddle.

67. Manfred Mann's Earthband – Chris Hamlet Thompson – ' Blinded By The Light'
Chris joined the Manfred's on 1976 and they scored a hit with this. It lasts 7.08 mins on record but was (badly) edited when released as a single. What worked for Dylan worked for Bruce. And despite my Bruce obsession, I prefer this.

68. Depeche Mode – Dave Gahan – 'I Feel You'
Born in North Weald which is in leafy Epping Forest and nothing like Basildon. Taken from Songs of Faith & Devotion, the video was produced by Anton Corbijn and feature Lysette Antony 'reknowned' Film, Theatre and TV actress. And given his enormous intake of drugs Dave is lucky to still be around quite frankly. Devilish.

69. The Dubliners & The Pogues – 'The Irish Rover'
The Irish Rover is a traditional Irish song about a sailing ship that reaches an unfortunate demise. There was awl Mickey Coote, Barney McGee, Hogan from County Tyrone, Johnny McGirr, Slugger O'Toole, Fighting Bill Treacy from Dover, Mick MacCann and a charming young whore (amongst a long list) who set sail for 7 years in said boat until measles, fog and a stray rock killed all on board.

70. Wizzard – Roy Wood – 'Ball Park Incident'
Aaah Glam Rock. Wizzard were at the forefront of the 70's 1950's revival. And it shows. Some of their stuff got a bit samey but this is fantastic. And Roy wore more make up than most girls of that era. And Roy looks like he is a genuinely nice bloke. A bit of a national treasure really.
71. Jethro Tull – Ian Anderson – 'Living In The Past'
Who knew playing the maracas could be so VIGOROUS?? A big hit over here and in America in 1969 – the footage here comes from the mid 70's and the early 90's. Notable for being written in 5/4 time (highly unusual for a popular record – see also Across the Universe and Happiness Is A Warm Gun)

72. Cat Stevens – 'Another Saturday Night'
Taken from his Greatest Hits. Nice to see Cat letting go. Great version of an old Sam Cooke song. Look at his lovely curly hair and near perfect beard. Does anyone know who those girl backing singers are? They are fab-u-lous.
73. Eagles – Don Henley – 'Hotel California'
Hotel California was the 5th Eagles LP and the first with Joe Walsh. 'One Of These Nights' is my absolute fave but lyrically I think this wins. The song is an allegory about hedonism and self-destruction in the Southern California music industry of the late 1970s

74. The Strawbs – Dave Cousins and Richard Hudson – 'Part Of The Union'
May not be the last time Richard Hudson is featured in this list. I posted this last year and yet again the UCU are on strike. Good on 'em. I remember my Mum being quite cross with me for singing along to this record when it came out- I think she thought I was being subverted. All together now…

75. Ozark Mountain Daredevils – Larry Lee etc – 'Jackie Blue'
Who? I hear you cry. Bit of a risk this one. Will anyone at all 'Like'. This reminds me of the Summer of '75 when I must have been the only 13 year old boy in the UK who loved this. Not a hit over here but huge in the States. Sort of a country Steely Dan crossed with That Lady by the Isley's with beards.. And covered by Smashing Pumpkins.
76. Nazareth – Darrell Sweet – 'This Flight Tonight'
Who would ever have imagined that Joni could be covered by any bloke, let alone 4 of them in a tough, hard-rockin' style? But I am very glad that Nazareth did as, in my opinion, this is better than the original. Loud and very Proud.

77. Hall & Oates – John Oates – 'She's Gone'
Possibly the only footage of Oates with a beard in existence on YouTube. This makes me smile – and finding this clip has been one the best discoveries. It might be the stoned beauty of the song duo, those shoes, that girl wandering about or the camp little devil. They must have taken a serious amount of drugs. Absolutely brilliant.
78. Rufus – Tony Maiden, Kevin Murphy, Bobby Watson & Nate Morgan – 'Tell Me Something Good
Rufus never took off in this country until Ain't Nobody in the 80#s – which is a great shame. Shame on you the UK. Taken from a performance on Soul Train (what else?) and written by Stevie Wonder. Chaka is a force of nature, with an incredible voice. I love her. Even though she does not have a beard.

79. Creedence Clearwater Revival – Doug 'Cosmo' Clifford – 'Fortunate Son'
CCR could do no wrong in my book. Released as the B side to Down on the Corner, this was a hit in America on its own merits. Filmed in an attic by the looks of it.

80. Dr Buzzard's Original Savannah Band – Coati Mundi and the bloke on the sax – 'I'll Play The Fool For You'
So then, the Big Band/Disco/Swing Revival starts right HERE. Dr Buzzard featured both Coati Mundi and August Darnell who were to pop up again several years later in Kid Creole and the Coconuts.
81. Sensational Alex Harvey Band – Alex Harvey – 'Boston Tea Party'
As you can see, there was some good records in '76 and it certainly wasn't all about the Brotherhood of Man and JJ Barrie. Last minute entry. Who can resist Alex in his 'tiny' shorts? *flicks hair*
82 – Mike Oldfield – 'Portsmouth'
Without Mike Oldfield's Tubular Bells, I would not be the man I am today. Fact.
Happy Mothering Sunday yummy mummy's.

83. The Manhattan Transfer – Tim Hauser – 'Chanson D'Amour'
My favourite Man Tran line up (not the Manhattan Transfer Company thank you Kid Jenson). Tim went to school with Jim Croce. Infectious.
Rat-da-da-da-da…

84. David Essex – 'Oh What A Circus'
Disco Evita. David was NOT the original Che Guevara on the original Evita recording – that accolade went to CJ Wilkinson but David took to the part like he was born to do it – even sporting a South American beard – which may or may not have been a false one.
85. Canned Heat – Bob 'The Bear' Hite – 'Let's Work Together'
Now that is one helluva beard. A 20-year-old Bionic Woman (Lindsay Wagner) was at Hugh Hefner's' House, playing a party game. Sat on Hite's lap she was asked by Hugh Hefner what kind of animal Hite would be if he were an animal, Bionic Woman claimed he'd be a bear. Imaginative girl.

86. Supertramp – Roger Hodgson, John Helliwell & Bob Siebenberg – 'The Logical Song'
I always imagined that the 'Tramp were formed in Oxford whilst studying Philosophy, sitting in a bedsit… Not a big fan of the 'Tramp, but I love them in small doses. And they did have great art-work.

87. The Four Seasons – Gerry Polci, John Paiva and Don Ciccone – 'Silver Star'
One of my all-time favourite groups… No Frankie on this one – he was off doing solo stuff. But this is brilliant – horny brass, sublime acoustic guitar – fantastic drumming – (unfortunately Gerry did not have a beard here). Should have been a monster.

88. Sisters Of Mercy – Andrew Eldritch – 'Dominion'
High Gothic or High Camp? Released in 1988, produced by Jim Steinman from Meat Loaf and featuring Patricia Morrison ex of the Gun Club and now the wife of Dave Vanian of the Damned. Andrew was born in Ely, Cambs and is an Oxford University student.


89. Billy Swan – 'Don't Be Cruel'
Quite a radical re-work of the Elvis hit (not as radical as Satisfaction by Devo though). This fits in well with this beautiful sunny morning. Now then that is David Essex on DRUMS, isn't it? If so, how did he get there?
90. Earth Wind and Fire – Maurice White – 'Boogie Wonderland'
This record BELONGS to the Emotions and to Philip Bailey's incredible voice. Been way too overplayed but this still makes me want to dance around my handbag. A Do-do-do-do, do-do-do-do, do-do-do-do, WonderLAAAND.

91. Bachman Turner Overdrive – Randy Bachman & Fred Turner – 'You Ain't Seen Nothin' Yet'
From Canada, Randy was previously in the Guess Who who scored a hit with 'American Woman'. A one hit wonder as far a BTO were concerned, but WHAT. A. HIT. Needs to be wrestled BACK from Smashie & Nicie. B-b-b-b-b-baby, you ain't seen nuffin' yet…
92. Lynyrd Skynyrd – Ronnie Van Zandt, Steve Gaines & Bob Burns – 'Sweet Home Alamaba'
One of the unluckiest bands in the history of this thing we call rock & roll Their final Lp was released and The original pressing of the cover of Street Survivors had a photograph of the band standing in flame but sadly a plane crashed 3 days later killing 3 members of the band.

93. Ronnie Lane – 'How Come'
Well no beard here on Ronnie, that honour goes to Bruce Rowland the drummer), but Ronnie often had a beard as did Gallagher AND Lyle (who nearly made my list too) and are also in this clip.

94. Steely Dan – Denny Dias – 'Do It Again'
I remember buying this and Feels Like Makin Love by Bad Company in 1975 in Stevenage and for several years I did not realise that it was actually released in 1972.

95. Peter, Paul & Mary – Peter Yarrow and Paul Stookey – 'If I Had A Hammer'
If I Had A Hammer' was written by Pete Seeger & Lee Hays in 1949. PP&M had a hit with it in 1962 (nearly 50 years ago). There really is something about Mary (RIP). Great song, if a little OCD.~~
96. ZZ Top – 'Gimme All Your Lovin'
Today's selection has actually given me a headache. But couldn't conceive a Beards in Pop list WITHOUT ZZ Top. Could I?

97. Genesis – Phil Collins – 'A Trick Of The Tail'
Genesis were fine until they became huge and Phil started releasing crap Motown covers. In fact, Wind and Wuthering is one of my all-time faves. And Phil is a great singer.. so there

98. The Flaming Lips – Wayne Coyne – 'Do You Realize?'
The Flaming Lips – Just gorgeous. GORGEOUS!! Released in 2002. Intelligent, moving, uplifting and glorious. An atheist, Coyne has gone on record by saying: "I wish I did believe in God. It would be a great relief to think, 'God'll take care of it. God'll put gas in the car tomorrow.'"
99. Kenny Rogers – 'The Gambler'
And don't he look dapper? Great, great Country song from Kenny – and he HAD to be here. No women involved, no tears spilt over a broken heart, simply a song about gambling and what to do/what not to do. And that voice is incredible (see also Ruby Don't Take Your Love To Town, Lucille, Coward of the County)

100. The Move – Roy Wood & Jeff Lynne – 'California Man'
The penultimate Beards in Pop. Here, the Move, are morphing into the ELO. In fact '10538 Overture' was less than a month away.

101. Doobie Brothers – Michael McDonald – 'Takin' It To The Streets'
So we come full circle, Michael McDonald was number 2 and he now finishes off Beards In Pop. Right up there with Ain't No Stoppin Us Now as a celebratory anthem. A truly great singer.
Bonus tracks
Midlake – One of the best songs from the last decade (2006 to be exact). Midlake are from Texas and also co-produced, engineered and played on Queen of Denmark by John Grant which is quite frankly brilliant. If I had a cat (or a second dog) I may well call him Roscoe.
Take That. In honour of the University Boat Race. Last time I rowed in Competition (the 1984 Olympics in Los Angeles), you had either 4 men in a boat or 8 and a Cox. So Take That are wrong. Really great record though.
Lee Marvin – Wandering Star. They never show Paint Your Wagon anymore do they? Great soundtrack, all songs are written by Lerner and Lowe and the soundtrack also included I Talk To The Trees and They Call The Wind Maria.
Abraham Lincoln. Or Hamsters in Pop. You're a superstar
Secret Love – Doris Day